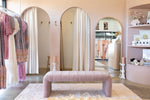 I'm so excited to finally be able to share some big news with you all… For the last 2 months, I have been completely immersed in setting up our first ever Coven store! During this time, we have had a lot of lovely locals popping in to have a look, so we very quietly opened the doors a couple of weeks ago, to welcome the local community into the store while we made our finishing touches (some customers even hopping around paint cans and stepping over boxes!) We have received the warmest welcome from the locals, and now it is my absolute pleasure to share it with you all - our treasured Coven community. You have no idea how much I have wanted to share this with you. 
Those around me have been perplexed by my need to keep this a secret, but I knew that once I made the announcement, some of our Coven girls would be making the trip from far and wide to come and visit our store, and I wanted it to be perfect, and for the online experience to come to life when you walk through our doors. So you could experience the essence of Coven in person, at our flagship store.
Last week I had a customer message me the other day after visiting the store, and she said - it even smells like I imagined it would! And that just made my day. Because Coven has been an online brand for 6 years now, I've never been there to witness our customers experiencing our brand in person, and seeing their reactions when they're feeling our garments, and hearing their excitement when trying on one of our pieces, has been such a thrilling experience for me.
So even though we have had the doors open for a couple of weeks, I'm delighted to announce the OFFICIAL opening of the first ever Coven store! For the last 6 years there hasn't been a day that's gone by where we haven't received a message or request for a Coven store, and the in store experience is something I have yearned to offer you, for what seems like an eternity. So now when someone asks, do you have a store where I can come in and try your pieces on? I will proudly say, we sure do! In the beautiful seaside town of Casuarina, just steps away from the ocean. So Coven... Now that we've finally opened our first store, I just want to keep going, so my question is - where to next?!
Brands we stock:
WHO IS ELIJAH - Australian made, cruelty-free, hand-filled perfumes that embody quintessential minimalism
RARAMURI - Sustainable Spanish shoe brand, crafted using biodegradable materials
AGAPE - Sustainable French jewellery brand, crafted using recycled gold. 
LUMIERE - Luxury, unique, Australian made candles
BRIGITTE MAY - Soulful art and print design, crafted in Australia
MAMA AND BIRD - Clean skincare, made for Mamas
SUNNI SCENES - Beautiful and unique picnic rugs