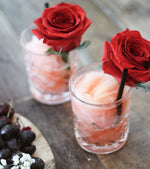 Hey Coven Girls, happy holidays!
I'm going to go ahead and get straight to the point with this one. It's Christmas time, and I just want to drink all of the pretty, fresh cocktails! This particular beverage is DELICIOUS. There's a few steps involved in making this (freezing, removing from freezer, blending, freezing again). But the steps are very straightforward and simple, and it's well worth it. Every time I've served these up to my girlfriends, they've gone crazy for them and demanded the recipe at once!
I only have 3 tips when making this glorious slushy goodness.
1. Here's the rośe I used. I asked the lady at the bottle shop which one she recommended (and for me, it has to be sweet!)
2. Make a double batch. For two reasons. 1. Because - delicious. And 2. Because it's not the most straight forward beverage to prepare, so you don't want to be banging around in the kitchen blending and freezing, and making another batch after you've annihilated your first batch. You can always leave this in the freezer - as it will last for up to 7 days...
3. Feel free to add a few splashes of vodka! I've added vodka to the rosé before popping it into the freezer, and then just added a little more of the strawberry syrup at the end to counter the taste ;)
So without further ado, here is the recipe!
Here's to sunshine filled Summer days, sipping on Frośe with friends...
Ingredients: 
(makes 4-6 servings)
1 x 750ml bottle Rosé - I used Gallo Family Vineyards White Zinfandel, you can use any that you like
250 grams strawberries, hulled and chopped
70ml fresh lemon juice
1/2 cup sugar (makes 4-6 servings)
Step 1
Preparation Pour rosé into a 30cm x 20cm pan/baking tray and freeze until almost solid (alternatively, you can use snap lock bags and lay them flat, if you don't have enough room in your freezer. Just make sure the bags are completely sealed) 
It won't completely freeze solid due to the alcohol - freeze for around 6 hours. 
Step 2
Meanwhile, bring sugar and ½ cup water to a boil in a medium saucepan; cook, stirring constantly, until sugar dissolves, for about 3 minutes. Add strawberries, remove from heat, and let sit 30 minutes to infuse syrup with strawberry flavor. Strain through a sieve into a small bowl, then cover and chill until cold, about 30 minutes.
Step 3
Scrape rosé into a blender. Add lemon juice, about 100ml of strawberry syrup, and 1 cup crushed ice and purée until smooth. Transfer blender jug to the freezer and freeze until frosé has thickened - this should take around half an hour.
Step 4
Blend again until frosé is slushy. Divide among glasses and garnish with fresh mint + strawberries, or a single red rose.