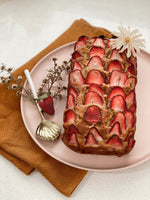 Banana Bread with Strawberries
My version of Banana Bread...
Banana bread isn't known for it's aesthetics, so I thought I would crown this loaf with some fresh sliced strawberries for something a little different! It turned out more beautiful than I expected, but best of all, it tastes (and smells) so good!
Here's the recipe:
INGREDIENTS:
4 medium very ripe bananas 
1/3 cup unsalted butter (melted)
1/2 teaspoon baking soda
Pinch of salt
3/4 cup of sugar
1 large egg (beaten)
1 teaspoon vanilla extract
1 1/2 cups plain flour
1 punnet of strawberries, sliced vertically.
METHOD:
Preheat fan forced oven to 170 degrees celsius and line a loaf pan with baking paper.
In a bowl, mash the bananas with a fork until smooth. 
Add the melted butter to the banana mixture and stir.
Add baking soda and salt, mix.
Stir in sugar, beaten egg and vanilla extract.
Mix in the flour until just combined with the wet ingredients. Be careful not to over mix the batter.
Pour the batter into loaf pan and even out the top.
Place the sliced strawberries on top, in rows.
Bake in the oven for around 55 minutes - an hour, or until a cake tester/skewer comes out clean when inserted into the centre of the bread. 
Enjoy!
Sian xx