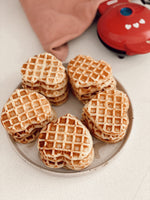 What could be better on a Sunday morning than making heart shaped waffles for someone you love? When I saw this mini waffle maker, I originally ordered it to make heart waffles for my Hubby on Valentine's Day morning... And unfortunately, with our busy work schedules back in February, that just didn't work out. So, here I am in June, finally making them! 
My favourite way to eat waffles, is simply freshly made, so they're warm, with some butter slathered on, and dripping in maple syrup, and Hubby likes his with Nutella and strawberries.
One thing I really like about waffles, is that you can make a big batch, and then store them in the fridge for a few days (or freezer for even longer), then just pop them in the toaster when you're ready to eat them!
We had some leftover this morning, so I thought I'd make some cute little treats for my nephews. I simply melted some chocolate, dipped half the heart waffle in the chocolate, and then added sprinkles. Needless to say, they loved them!
The waffle maker is from Urban Outfitters in the US, so if you're thinking about getting one for yourself, you'll also need a reverse adapter, which I just picked up from good old Kmart (I've popped the link for you here). 
And of course you can use any waffle recipe you like, but if you're interested in the one I use, click here.
Anyway, that's it from me. I knew that our Coven community would love these cute little heart waffles, so I hope I've provided you with all of the info you need, so that you can make some for your loved ones too! The best thing about this little waffle maker, is that it's so tiny, so it takes up almost no room at all in your kitchen!
Enjoy,
Sian xx
COVEN FOUNDER