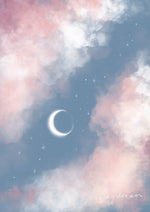 Daydream Collection - reflecting...
Our Daydream collection - 
This collection came about because of Covid-19 related lockdowns of all things! In the Autumn of 2020, when we were all spending much more time at home, this gave me time to reflect, and dream up pieces I wish I was lounging around in. Loungewear, a completely new category for Coven (as you may or may not know, we're better known for gowns) was something I felt a need for. Especially for those cosy days at home, when you don't want to actually get dressed, but you at least want to get out of your pyjamas! Our Daydream pieces are garments that you can wear from the lounge, to basically anywhere you like. And even though this was a loungewear collection, it was still important to me that these pieces had that element of femininity and Coven magic woven into them. 
Getting the perfect fit and colour was over a year in the making, with many samples being changed and improved until I knew we had the perfect garments. And because of this, instead of launching this collection at the start of Autumn, in March 2021, when every other brand in Australia is releasing their Autumn/Winter range, our Daydream collection didn't land until mid July! Pretty much when other brands start releasing their Spring/Summer collections. 
Being so late to the party was a little bit of a concern for me at times. I'd find myself waking in the middle of the night thinking - what have you done! You've spent so much time perfecting these garments that you've left it too late! Luckily, those around me would remind me how special this collection was, and that our Coven community would love and appreciate the garments because of these finer details and quality.
And sitting here, almost 2 weeks after the launch, I'm happy to say that they were right. The collection was our most popular to date, and seeing how much love it's received over the last couple of weeks has made me feel so many emotions! Gratitude, relief, joy, fulfilment, excitement and pride. It should also be noted that the collection isn't really an Autumn/Winter collection when I really think about it. I mean, it's the Gold Coast's version of Winter fashion. Take for example, the Daydream sweater, gloriously thick in parts, and a beautiful open weave in other parts. Then we have our knit pants, shorts, crop, tee, skirt and dress which are all transeasonal pieces, suitable to be worn in Autumn, Winter and Spring. Some pieces even in Summer. 
Our Daydream collection was shot at the beautiful 'Casas Secretas' in the Byron Hinterland, which is about 45 minutes south of Coven HQ. We booked the exterior of this venue for our shoot, because I love natural outdoor light, and the gardens and surrounds were just beautiful. The only thing with outdoor shoots, is it's a little tricky in terms of weather (which was fine, thankfully) hair & make up, and feeding your crew (not having access to a fridge etc). Luckily, when we arrived at the venue, a lovely lady greeted us, and let us know that their airbnb accomodation, also situated on the property - known as 'The Dairy', was vacant, and asked us if we'd like to use it as base camp for the day. Of course we said yes! I'd spent the 24 hours prior to this tracking down eskies and getting ice, and ensuring I had everything we needed to set up a little outdoor base camp for our team. Oh well, all's well that ends well! The Dairy was a stunning, farmhouse style, rustic abode, with every comfort we could have possibly wanted, and we even got some amazing shots using the exterior as a backdrop (these are the cosy pictures featuring the knee high knit socks/Daydream cream knit sweater and our black knit dress).
Anyway, I hope you enjoy our campaign photos, and the behind the scenes anecdotes that you don't often hear about! A big thank you to my amazing team (who I'll mention below) and thanks to you, for stopping by and reading this. 
Our Daydream Collection is available online now.
Love, Sian xx
Coven Founder
Coven - 'Daydream Collection' campaign photoshoot
Photographer: Kate Rosenberg
Model: Jemma Rubach
Hair & MU: Reanin Glah
Styling: Sian of Coven
Assistant: Racheal Hamlin
Location: Casas Secretas