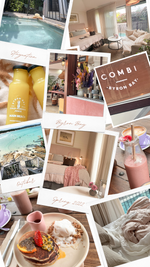 Fresh off the back of my little Byron getaway, to recharge and regroup after a very busy (I was going to say - few months, but it's more like years!) I thought I would include a recap of my escape, as I had a lot of questions come through on socials. Being that I live just 45 minutes north of Byron, it's somewhere I've been going since I was a child, when it was just a sleepy little town that not many people had even heard of!
Favourite beaches:
 If I had to choose, my favourite Byron beach would probably be Cosy Corner at Tallows, or Little Wategos. Little Wategos is often overlooked, as it's a bit of a secret. You can get there on foot at low tide by walking around the point at Wategos. Once you get there, you'll find a secluded little cove, complete with mermaid pools... heaven!
Accommodation:
This time around, we stayed at 28 Degrees, and we really loved it. Our room was the king room with plunge pool, which I spent a glorious day splashing around in with some music and cold beverages while hubby was at work. (He is a tiler and the worksite was just a couple of minutes from where we were staying). 
Favourite Eats:
Where to start??? This time around, our favourite meal was brunch at Combi. I had the pancakes with fruit, ice cream, syrup and various nuts, and Brendan had the eggs on toast and added things to it (things like bacon, mushrooms, avo, etc). We also had pink smoothies and a latte for me, and a jumbo flat white for Brendan. Beautiful experience, very relaxed atmosphere which we adore, and lovely staff. 
Other favourite spots to eat:
Mez Club ~ visually stunning restaurant, and the food is equally as good. This is the kind of place you could go to for a casual lunch, or dress up and go for and dinner and cocktails. Speaking of cocktails, they're absolutely beautiful - I love this place, a definite must try! 
Folk ~ laidback, fun and delish. We've been going here for years, usually on our way out of town we'll stop in here for a glorious vegetarian breakfast or lunch. 
Miss Margarita ~ I've been going here for almost a decade now, and it never disappoints. Delicious, fresh Mexican food, amazing vibes, beautiful Mexican inspired decor, and great vibe. This place is always busy and buzzing, so the only downside is that it's often hard to get a table!
I hope this little bit of info helps when planning your next trip to Byron! There's so many more restaurants/beaches/stays I could list, so this is just a starting point, and I will expand this blog post in the future. (You can also check out my 'Byron Bay' story highlight on instagram for more Byron content). If you have any recommendations for our Coven Community, please feel free to leave them in the comments section below. I'd love to hear about your favourite spots in the Bay!
Until next time - I hope you're having a beautiful October, and Happy Libra season to all of my fellow Libra's out there... (and here's a sneaky little discount code if you have made it this far! To get 15% off sitewide, including sale items, simply enter the code: LIBRA15 at checkout. Valid until midnight Friday 21st October AEST)
Sian xx