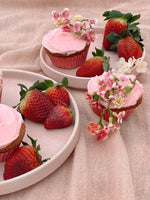 Spring Strawberry Cupcakes
I love to do something special to mark the change of season – and this Spring I had the urge to make some pretty pink cupcakes and decorate them with flowers from our garden… And look, I had every intention to make the buttercream frosting, and as I was preparing to make it - there it was in my pantry… The Betty Crocker Strawberry Frosting I bought on a whim a year or 2 ago. It was almost past expiry – so it was now or never. What I was not prepared for was how good it tasted! The taste is so sweet, delicious, nostalgic, and it reminded me of the icing on a pink donut. 
Now I'm not saying this is something you should use every time, but when you're short on time, or just not in the mood - I would definitely recommend this glorious icing. Besides actual cooking time in the oven, making these cupcakes and icing them wouldn't have taken more than 10 minutes!
I've been using this cupcake recipe (courtesy of Queen Nigella) for 20 years now, and I promise you, it is the easiest and most DELICIOUS cupcake recipe ever! I hope you love it as much as my family and I do, and if you happen to make them, please tag Coven so I can see your beautiful creations!  
Sian xx