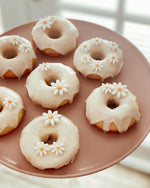 Hi ladies,
I'm guessing lots of you have come to this blog post after seeing these doughnuts on Coven's instagram stories! Thank you for stopping by :)
Below I'll share the recipe with you, along with the link to where I purchased the edible fondant daisies. In regards to the doughnut mould pan, I purchased this from an online store (I think it was Pottery Barn or Williams Sonoma) however, I have seen them recently at Kmart and they're less than a quarter of the price:
https://www.kmart.com.au/product/6-cup-doughnut-pan/3395306
I found this recipe one day on Pinterest, and I liked the idea of baking doughnuts instead of deep frying them. Of course though, because this is a recipe for baking instead of frying, these doughnuts are more like soft glazed doughnut shaped cakes, rather than actual doughnuts, so that's something to keep in mind if you have your heart set on the traditional style deep fried doughnut. 
I doubled the below recipe, and for the glaze (because I like the glaze to be quite thick) I added a lot more powdered sugar. Instead of one cup, I added more like 2 cups. I didn't measure exactly, and for the glaze, you can add more sugar as you go, until it's at the consistency you desire. Go really easy with the milk, as even one spoonful will be enough to make the glaze runny. So just add a tiny bit at a time. 
https://aseasyasapplepie.com/vanilla-glazed-baked-donuts/
Once the doughnuts were glazed, I joyfully went about decorating them with edible fondant flowers! The daisies are from Etsy (link below) and the pink flowers are from Woolworths.
https://www.etsy.com/au/listing/782608265/36-x-edible-fondant-daisy-flower-cake?
This recipe was so easy, and the doughnuts were very soft, moist and delish! I hope you love them too. If you have any questions, donut hesitate to get in touch with me! (Sorry, I had to - #DADJOKE).
Sian xx