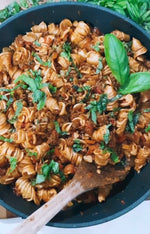 Spaghetti Bolognese Recipe
After making spaghetti bolognese last night, and sharing to Coven's instagram stories, I've awoken to an inbox full of messages asking for the recipe, so here it is! I'm certainly not reinventing the wheel here. Spag Bol recipes are all pretty standard, and if you're anything like me, growing up it was a weekly staple in your household. Of all the recipes I've used over the years though, this is definitely our favourite.
I used to strongly resist adding vegetables, such as carrots and celery to my Spag Bol, however I have since seen the light! This dish is so full of flavour and depth, and is something my husband requests again and again. I hope you love it as much as we do!
INGREDIENTS:
A few good dashes of olive oil
1 tbs butter
3 carrots - peeled and chopped 
3 stalks of celery - chopped 
2 large brown onions - chopped
1-2 teaspoons of minced/finely chopped garlic
1 tbs brown sugar
1tbs beef stock powder
1 cup of red wine
1 tsp dried oregano
2 bay leaves
1/2 - 1 teaspoon of minced chilli (depending on your taste). 1/2 a teaspoon won't make this dish spicy, it will just add warmth, depth and flavour. 
250 grams beef mince
250 grams pork mince
1 small tin of tomato paste
1 tin of crushed/diced tomatoes
1 tsp salt
1/2 cup of cream
A couple of handfuls of fresh basil
500g pasta (any kind, I use spiral, penne, fettuccine or tubular spaghetti)
INSTRUCTIONS:
In a large skillet, heat olive oil and butter, until butter is sizzling slightly.
Add carrots, celery, onion and garlic and sauté until soft.
Add brown sugar and cook until vegetables are caramelised.
Add beef stock powder and wine. Reduce until wine is evaporated.
Add beef and pork mince and break up with the back of a wooden spoon. Cook, stirring so the meat browns evenly.
Add salt, oregano, bay leaves and chilli - stir.
Add tomato paste and stir until it is evenly distributed.
Add tinned tomatoes and stir.
Add cream (milk would also work)
Now allow to simmer on low heat while you cook your pasta.
Once the pasta is cooked, reserve approximately 1/2 cup of pasta water.
Add pasta to the bolognese sauce and stir through. Add the pasta water as you stir. 
Stir through a handful of the chopped fresh basil and garnish with another handful.
Enjoy!
Sian
xx