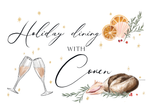 Holiday dining with Coven...
The festive season is upon us... 
Happy 1st of December to our wonderful Coven community! We thought we would share a festive dining setting we created recently, along with some tips on creating a beautiful, yet simple Christmas table setting with items you may already have.
For me, when it comes to a Christmas dining setting, I really love to make the table feel relaxed and festive, but without being too obvious. And what I mean by that is, you won't see any tinsel or Santas, anything disposable, or anything that screams Christmas. You will however, see some very subtle items that feel inviting, simple and festive.
And in this case, I decided to go for edible decor this year! Something you can pop in your drink, or add to a salad. Something that has a purpose. So, scattered around the table you'll find cranberries, dried fruit slices (such as oranges, lemons and limes) and sprigs of rosemary. These simple items, paired with beautiful soft and pastel pink bowls, rustic cream plates, terracotta serving bowls, gold cutlery, and gorgeous linens in the shades of amber, oat and dusty pink set the scene for an inviting, understated, yet decadent lunch.
And while this is a Christmas setting, absolutely everything you see here can be used at anytime during the year. So instead of buying decor and serving ware that you'll either throw away, or put in a cupboard until next Christmas, perhaps think about using existing pieces and giving them new life with a coloured linen napkin, and spicing up your table setting with some beautiful and delicious edible decor.
The dried fruit slices are so easy to create:
Slice the fruit into thin slices (oranges/limes/lemons no thicker than 1cm).
Preheat oven to 100 degrees (fan forced oven) 120 degrees (conventional oven).
Place fruit slices directly onto a wire cooling rack, then into the oven. (If you don't have this, just use a baking tray and line with baking paper. This will take a little longer though).
Bake until the peels are dry and the flesh is translucent, about 2-3 hours (turning a couple of times).
Enjoy!
COVEN FOUNDER
Leelah
wears our Pink Posie Robe, and
Kayla
wears our Pirate Queen Gown in size large. Both are available online now!
Shell Trivets: Vintage
Gold Cutlery & serving ware
:
Target