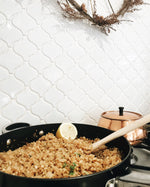 The best ever Pearl Couscous Recipe
Hey gals,
I'm guessing most of you are stopping by because you watched me making this little dish on my stories! Trust me when I say that, you need to try it. SO easy and tasty. You'll be the hit of the next BBQ if you bring a bowl of this along with you! The hardest part, trying not to eat it by the spoonful all by yourself. 
Ingredients:
2 tbs butter 
1large brown onion 
1or 2 lemons (juice and zest)
3/4 cup pine nuts
Shaved parmasen (I usually put a couple of tbs, but it's up to you)
Flat leaf parsley
Chicken stock (2 cups)
2 tbs brown sugar
1 packet pearl couscous (it's a blue packet) 
Toast pine nuts in large fry pan. (Reserve and toss through at the end) 
Brown onions in pan with butter. 
Add 1 tsp salt and some cracked pepper.
Procedure:
Add packet of couscous and stir to toast until just golden. 
Add chicken stock and simmer until all of the liquid is gone and the couscous is al dente. 
While simmering add 2 tablespoons of brown sugar and lemon juice to taste. (I used half a lemon here).
When cooked, stir through zest from 1 whole lemon, chopped flat leaf parsley and shaved parmesan.
I then squeezed over more fresh lemon juice and added more parsley before serving. (Careful when squeezing lemons over this dish, the seeds look almost exactly like the pine nuts, and well, the couscous too! Trying to find one after you've accidentally squirted it in, is like playing Where's Wally/Waldo. Not to mention, they're slippery little suckers!) 
And that's it! Nothing gives me more comfort than having a big tupperware container full of this goodness sitting in the fridge. This dish is best served warm, but is also amazing straight from the fridge, or at room temperature. 
Anywho, it's a dark, rainy day here so I think I'm going to do some more cooking today! 
Sian xx