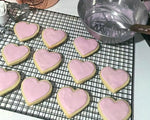 Valentine's Day Heart Cookies
Valentine's Day...
A day of joy for some, hated by many... 
I've always loved V-Day, when I was a single gal (which was many years) or as a wifey. It depends on the way you look at it I guess. I was always very happily single, but it excited me to think that one day I might have a Valentine for the rest of my life. But before that time came, many Valentine's days were spent with friends, giving each other flowers, watching movies and eating chocolate. (Galentine's day, as it's now referred to). And don't tell hubby this, but for me, one was not better than the other!
I always feel like there's a little bit of magic in the air on the 14th of February, I hope you do too.
Enjoy lovers,
Sian xx
I thought I'd share this cookie recipe with you, as it's one of my favourites!
I make these cookies every year on Valentine's Day... It's definitely my go to cookie recipe for all special occasions. 
Now, I am not a shortbread lover, AT ALL. But of course, Queen Nigella created a recipe that made me a believer, and this is it. I've been baking these cookies for at least 10 years now, and people are always so surprised by how good they taste. They've made appearances at birthdays, my sister in laws hens weekend, Easter, Halloween, etc. Very versatile cookies!
*** Oh, and here's my hot tip. When you put them in the oven, watch them like a hawk. And just before you think they're done. TAKE THEM OUT! They will continue to cook a bit on the tray anyway, and trust me, one extra minute and these can go from perfectly delicious, to awful hard, dry cookies! I can't stress this enough. lol. The second the edges start to turn slightly golden, get those babies outta there! ***
Enjoy!