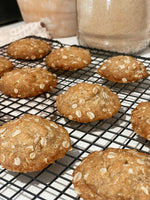 My favourite Anzac Biscuit Recipe
If you're like me, and only like biscuits/cookies that are deliciously chewy, then this is the Anzac Biscuit recipe for you! I've been making these for the last 6 years, ever since my Mum forwarded this recipe to me. She'd made a batch and once I tried one mouthful, I immediately requested the recipe. I also stuffed a couple in my pockets for the ride home! (True story. Mum if you're reading this, sorry lol).
My tip, as always with biscuits/cookies, is to get them out of the oven just before you think they're done. The second the edges start turning golden, get them out! They'll continue to cook on the tray when you remove them from the oven, and what you'll find after letting them rest for a few minutes is that they'll firm up slightly and be perfectly soft, chewy cookies! Unfortunately if you leave them too long, you can't unring that bell, and you could end up with dry, rock hard biscuits/cookies... 
Baking these biscuits is not a big gesture, but it is symbolic, along with those red poppies, on a day that is sacred for Australians and New Zealanders. I'm filled with so much gratitude for the brave soldiers that fought and died for our nation, so that future generations could live in freedom in this beautiful country of ours. And each year as I grow and mature, and have more of an understanding of the sacrifices they made, my respect and appreciation for them grows.
"They shall grow not old, as we that are left grow old; Age shall not weary them, nor the years condemn. At the going down of the sun and in the morning We will remember them." 
Sian xx
Coven Founder