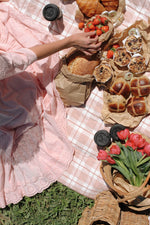 Easter Picnic + Hot Cross Buns
Easter Brunch Picnic:

I love to picnic. I mean I really love to picnic. Recently I culled my vintage picnic basket collection - because, well, it was just getting out of hand (and I was running out of room). And as much as I love to go on a picnic, sometimes I can get a little carried away, wanting to use my favourite baskets/cake stands/plates etc, and going on a simple picnic can turn into a bit of an ordeal - just ask my Husband! So recently I had the idea to use biodegradable brown kraft paper (which I found on Amazon) to put the food on, and I'll never go back.

Before we went on this beautiful little Easter picnic, I just tore up sections of kraft paper and packed them in the picnic basket. Lots of the goodies we brought along for our Easter brunch already came in brown paper bags, so we of course used them as well. Setting up this picnic was effortless and quick, which is usually not the case, and the pack up was even easier!
I hope this little blog post inspires you to get out in nature this Easter, and have a picnic in the sunshine with the special people in your life :)
Basket: Olli Ella
Picnic basket: Vintage
Picnic food & coffee:
Paddock Bakery, muffins were homemade & the strawberries were from Currumbin Fair IGA (and some of the best I've ever had in my life!)
Dress: Pink Starlight Gown
Hat: Lack of Color
Tulips: GC Flower Market
Hot Cross Buns
I actually already created a blog post for my favourite hot cross buns recipe last Easter, so I'm just going to link it for you here. I'm not a fan of sultanas, so I substitute the sultanas with chocolate chips - which you'll read all about in my blog post. I think I'll be making my hot cross buns either tonight or tomorrow, so no doubt you'll see some behind the scenes on Coven's stories. See you there! 
Sian xx