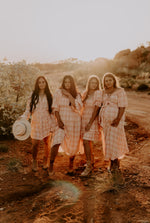 --- SUMMER LOVE/WILD WEST PHOTOSHOOT IN THE OUTBACK ---
8th March, 2022 
Photography: Sarah Conlan 
Talent: Jaunita, Dale, Glenda and Cheryl
Styling and Concept: Sian
Production and Styling: Racheal 
Location: Kalkadoon
Collection: Summer Love
Floral arrangements: Gather Store
Click here to shop the collection
"WE ARE ARTISTS. WE ARE KALKADOON WOMEN. WE ARE MOTHERS, SISTERS, PARTNERS, BUSINESS OWNERS. WE ARE TELLING THE STORIES OF OUR KALKATUNGU HOMELANDS AND SHARING THE COLOURS, TEXTURES AND HISTORY OF OUR HOME. WE ARE CUNGELELLA ART".
Glenda, Jaunita, Dale & Cheryl ~ of Cungelella Art
Before I tell you how this beautiful experience came about, I should preface this by saying that I'm a big believer in manifestation. Manifestation & gratitude has been a part of my life since I was a child (without actually knowing what it was, or that I was doing it, until I became an adult).
For months, or maybe even a couple of years, I have dreamed of doing a creative project like this one, as I've always felt such a connection to the Indigenous community of Australia, which could be for a variety of reasons. My Father's best friend is an Aborigine, and so are my brother in laws. My Father has travelled out to remote parts of Australia to visit Indigenous communities with his friend, and described the experience as amazing, unforgettable and incredibly inspiring, so it is something I have always been very interested in, and intrigued by.
Back in February, the lovely ladies from Cungelella Art reached out to see if we would be interested in doing a photoshoot with them, as they were Coven fans. I couldn't reply quick enough... Yes, yes, yes!
As is the case with most fashion shoots like this, the ladies expected us to send some Coven pieces to them, they'd do a photoshoot, and their photographer would send us the photos, however, we had other plans... We wanted to to be a part of it and soak in every drop of culture, wisdom and inspiration that these ladies had to offer. Fast forward three weeks, (on International Women's Day) and the Coven team touched down in The Outback to be a part of this amazing photoshoot. Upon arriving in Mt Isa, Coven manager (Racheal) actually spotted the girls in the street and went up and introduced herself. She received a very warm welcome, as is common in lovely small towns like 'Isa' (which is what she now calls it after her visit!). The girls couldn't have been more welcoming to us, even inviting us for coffee the day after the shoot, which we happily accepted.
Coffee date with the girls the morning after the shoot...
Picutred (left to right): Cheryl, Monique (daughter of Racheal - Coven manager), Glenda, Jaunita, Dale. 
Being that it was so hot, the shoot couldn't begin until sundown (a very new concept for us, we're usually chasing the light!) so it was a very fun and fast paced shoot, as the sun was going down. The landscape was rugged and breathtaking, and the way the stunning colours in the sky changed as the sun was setting were indescribably beautiful. There was no hair and make up team, we simply requested the ladies come as they are, barefoot and natural (and stunning, might I add).
We are so delighted to finally share these beautiful images, and so thrilled to see these incredible ladies in our Summer Love pieces. What an honour and privilege. 
ABOUT THE SISTERS:
Mount Isa based sisters and Aboriginal artists, these beautiful indigenous women are descendants of the mighty Kalkadoon tribe in North West Queensland. They paint and live on their traditional homelands while also raising their 12 children (9 boys & 3 girls) on country. As a family, they love to take all of their children out to the bush so they can swim, run wild chasing lizards, bearded dragons and snakes, all while learning about their culture. Most nights, the sisters, their partners and their children get together as a family, spending time together and having dinner (usually cooked by Cheryl's partner). The first question when they all go camping is whether or not he is coming! Their favourite meals are stews, curries and rice, because they go a long way in feeding such a big family.
They paint their traditional homelands, focusing heavily on the landscape, as it is of paramount importance to them, while also being a major source of inspiration. 
Being blessed to grow up with their mob close by, their Dad has always been an inspiration to them, as they grew up watching him create Aboriginal artefact. Their Father also lead the fight to win a native title for the Kalkatungu nation, and their Mother is also a creative, who loves to paint and make clothes. For as long as they can remember, their Mother has made clothes, and they credit their love of fashion and arts to their Mother's influence.
CUNGELELLA ART:
Cungelella Art was founded in 2019 by Glenda McCulloch, as a vehicle for sharing her culture through modern Aboriginal art. It soon expanded as a collaboration to include Glenda's sisters - Jaunita, Dale and Cheryl. Not only was the opportunity for business expansion presented as the demand for their art increased - the sisters were able to create a venture that allowed them to work closely together and spend quality time together as a family, creating a legacy through their artwork.
From a young age the sisters were surrounded by artists and creatives; from their grandparents to their uncles and aunties, who enjoyed teaching them about carvings and paintings on different artefacts and traditional art of the region. They've taken this traditional knowledge to create a unique and modern take on contemporary Aboriginal art, one that reflects the rugged ranges and native fauna and flora that surrounds their Kalkadoon home.
To celebrate this beautiful collaboration, we have created a discount code for you! Simply use the following code at checkout: CUNGELELLAART10 for 10% off any Summer Love Pieces.  
We would like to acknowledge the Traditional Custodians of the land on which we conducted this photoshoot, and pay our respects to their Elders, past and present...